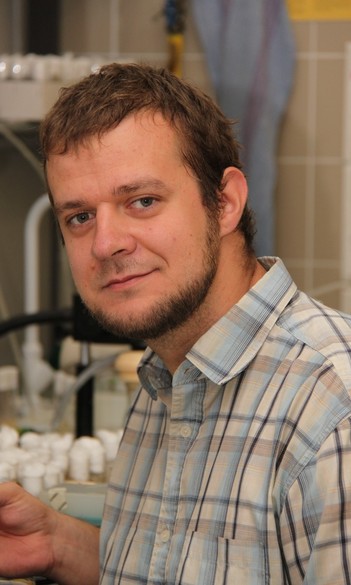 HU
Tibor KOVÁCS
Pázmány P. stny 1/c, BUDAPEST, H-1117 HUNGARY
tibor.kovacs@ttk.elte.hu
+36-1-3722500-8694
Sex Male | Date of birth 12/09/1982 | Nationality Hungarian
WORK EXPERIENCE
2018 - assistant professor, Eötvös Loránd University, Department of Genetics
2015 - 2018 assistant research fellow, Department of Genetics, Eötvös Loránd University
2014 - 2015 assistant research fellow, Velgene Three Ltd.
2013 – 2017 Ph.D. student, Department of Genetics, Eötvös L. University
2012 - 2013 technician, Department of Genetics, Eötvös L. Univer
Research experience
2005-2007: Agricultural and Molecular Research Institute, Nyíregyháza,
Functional analysis of Vihar ubiquitin conjugating enzyme in Drosophila melanogaster
2009 – present : Department of Genetics, Eötvös Loránd University
Studies of shared developmental roles and transcriptional control of autophagy and apoptosis in Caenorhabditis elegans.
Roll of Myotubularin related proteins (MTMR) during mechanism of autophagy
Developmental roll of autophagy in eye patterning in Drosophila
Studies of autophagy-dependent regeneration of stem cells in the Drosophila male germline
AUTEN-67 and -99 autophagy-enhancing drugs functional analysis in fruit fly
Teaching activities:
Lectures:,Genetics, Recombination and its practice in gene technology
Practicals: Genetics Practice, Molecular Genetics, Developmental Genetics
EDUCATION
2013-2016 PhD in Biology, Eötvös L. University, Budapest
2008-2012 MSc in Biology, Eötvös L. University, Budapest
2003-2007 BSc in Biology and Environmental Science, College of Nyíregyháza
Mother tongue(s)

Hungarian

Other language(s)

UNDERSTANDING

SPEAKING

WRITING

Listening

Reading

Spoken interaction

Spoken production

English

C1

C1

C1

C1

B2

Combined, Intermediate, Hungarian State Accredited Language Examination Certificate

German

B2

B2

A2

A2

A2
Skills
Laboratory technical skills: Crossing and maintain of C. elegans and Drosophila stocks, PCR, quantitative and semi-quantitative PCR, cloning technology, in vitro mutagenesis, fluorescents and confocal microscopy, transmission electron microscopy, genotyping, Western blot, immunohistocemistry, mRNA, DNA and protein isolation, in situ hybridisation, TUNEL assay, Apoliner, Acridine orange staining
Software: Microsoft office, Photoshop, AxioVison, Zen ImageJ, SPSS, SeqBuilder, RStudio
References
11 paper, sum of 98.684 impacts, 1587 independent citations, shared first author in 3 articles (labelled with *), corresponding author in 1 article (labelled with #)
Varga VB, Keresztes F, Sigmond T, Vellai T, Kovács T. The evolutionary and functional divergence of the Atg8 autophagy protein superfamily. Biol Futur. 2022 Jun 22. doi: 10.1007/s42977-022-00123-6. Epub ahead of print. PMID: 35731422.
IF: 1.06
Varga VB, Schuller D, Szikszai F, Szinyákovics J, Puska G, Vellai T, Kovács T. Autophagy is required for spermatogonial differentiation in the Drosophila testis. Biol Futur. 2022 Jun;73(2):187-204. doi: 10.1007/s42977-022-00122-7. Epub 2022 Jun 7. PMID: 35672498.
IF: 1.06
Maruf A, Milewska M, Kovács T, Varga M, Vellai T, Lalik A, Student S, Borges O, Wandzik I. Trehalose-releasing nanogels: A step toward a trehalose delivery vehicle for autophagy stimulation. Biomater Adv. 2022 Jul;138:212969. doi: 10.1016/j.bioadv.2022.212969. Epub 2022 Jun 4. PMID: 35913246.
IF: 7.33
Klionsky DJ, Abdelmohsen K, Albert ML,……. Banhegyi G, Juhasz G, Kapuy O, Kovacs T, Lekli I, Lorincz P, Megyeri K, Nagy P, Orosz L, Petrovski G, Takacs-Vellai K, Takats S, Vellai T, Vertessy BG,…… Zughaier SM. (2021). Guidelines for the use and interpretation of assays for monitoring autophagy (4th edition), Autophagy pp. 1-382.,382.
IF: 16.02 independent citations: 110
Anna Manzéger, Kinga Tagscherer, Péter Lőrincz, Henrik Szaker, Tamás Lukácsovich, Petra Pilz, Regina Kméczik, George Csikós, Miklós Erdélyi, Miklós Sass, Tibor Kovács,#, Tibor Vellai,#, Viktor A. Billes# (2021). Condition-dependent functional shift of two Drosophila Mtmr lipid phosphatases in autophagy control, Autophagy – accepted, preparing technical edits
IF: 16.02 independent citations: 1
Kutnyánszky Vera, Hargitai Balázs, Hotzi Bernadette, Kosztelnik Mónika, Ortutay Csaba, Kovács Tibor, Győry Eszter, Bördén Kincső, Princz Andrea, Tavernarakis Nektarios és Vellai Tibor (2019): Sex-specific regulation of neuronal functions in Caenorhabditis elegans: the sex-determining protein TRA-1 represses goa-1/Gα(i/o). Molecular Genetics and Genomics. . ISBN: 0123456789. ISSN: 16174623
IF: 2.879 independent citations: 2
Zsolt Farkas, Metka Petric, Xianghua Liu, Floriane Herit, Eva Rajnavolgyi, Zsuzsa Szondy, Zsofia Budai, Tamas I. Orban, Sara Sandor, Anil Mehta, Zsuzsa Bajtay, Tibor Kovacs, Sung Yun Jung, Muhammed Afaq Shakir, Jun Qin, Zheng Zhou, Florence Niedergang, Ma and Krisztina Takacs-Vellai (2019): The nucleoside diphosphate kinase NDK-1 / NME1 promotes phagocytosis in concert with DYN-1 / dynamin. FASEB Journal.
IF: 5,498 independent citations: 1
Sturm Á, Saskői É, Kovács T, Vellai T, (2018): Highly efficient RNAi and Cas9-based auto-cloning systems for C . elegans research. Nucleic Acids Research 2500, Ext 8684: 1–13. ISSN: 1362-4962
IF: 10,162, independent citations: 13
Billes V , Kovács T*, Manzéger A, Lőrincz P, Szincsák S, Regős Á, Kulcsár P, Korcsmáros T, Lukácsovich T, Hoffmann Gy, Erdélyi M, Mihály J, Takács-Vellai K, Sass M, Vellai T. (2018) Developmentally regulated autophagy is required for eye formation in Drosophila. Autophagy.
IF: 11,1, independent citations: 7
Kovacs T *, Billes V, Komlos M, Hotzi B, Manzeger A, Tarnoci A, Papp D, Szikszai F, Szinyakovics J, Racz A, Noszal B, Veszelka S, Walter FR, Deli MA, Hackler L Jr, Alfoldi R, Huzian O, Puskas LG, Liliom H, Tarnok K, Schlett K, Borsy A, Welker E, Kovacs AL, Padar Z, Erdos A, Legradi A, Bjelik A, Gulya K, Gulyas B, Vellai T: The small molecule AUTEN-99 (autophagy enhancer-99) prevents the progression of neurodegenerative symptoms., SCI REP 7: , 2017
IF: 4,259, independent citations: 28
Viktor A Billes, Tibor Kovács, Bernadette Hotzi, Anna Manzéger, Kinga Tagscherer, Marcell Komlós, Anna Tarnóci, Zsolt Pádár, Attila Erdős, Annamaria Bjelik, Karoly Gulya, Balazs Gulyás and Tibor Vellai,. (2016) AUTEN-67 (Autophagy Enhancer-67) Hampers the Progression of Neurodegenerative Symptoms in a Drosophila model of Huntington's Disease, Journal of Huntingtion's Disease
independent citations: 18
Papp, D., Kovács, T*., Billes, V., Varga, M., Hackler, L, Jr., Puskás, G, L., Vancsik, T,. Tárnok, K., Schlett, K., Kovács, L A., Komlós, M., Gulyás, B., Erdős, A., and Vellai, T. (2016). AUTEN-67, an autophagy-enhancing drug candidate with anti-aging and neuroprotective effects. Autophagy pp. 237-286
IF: 8,593, independent citations: 40
Klionsky DJ, Abdelmohsen K, Albert ML,……. Banhegyi G, Juhasz G, Kapuy O, Kovacs T, Lekli I, Lorincz P, Megyeri K, Nagy P, Orosz L, Petrovski G, Takacs-Vellai K, Takats S, Vellai T, Vertessy BG,…… Zughaier SM. (2016). Guidelines for the use and interpretation of assays for monitoring autophagy (3rd edition), Autophagy pp. 1-222
IF: 8,593, independent citations: 1331
Edélyi, P.,Borsos, É.,Takács-Vellai,K,. Kovács, T., Kovács, A, L., Sigmond, T., Hargitai, B., Pásztor, L., SenGupta, T., Dengg, M., Pécsi, I., Tóth, J., Nilsen, H.,Vértessy, B, G., and Vellai1,T. (2011). Shared developmental roles and transcriptional control of autophagy and apoptosis in Caenorhabditis elegans. Journal of Cell Science 124, 1510-1518
IF: 6,111, independent citations: 36
Conferences
XVII. Hungarian Molecular Life Sciences 2019, Eger. Tibor Kovács, Virginia B. Varga, Fanni Szikszai, Anna Manzéger, Viktor A. Billes, Janka Szinyákovics, Bernadette Hotzi, Gina Puska, Tibor Vellai, Hemocytes regulate selective autophagy during regenera-tion of germline stem cells in Drosophila
XVII. Hungarian Molecular Life Sciences 2019, Eger. Janka Szinyákovics, Viktor Billes, Bernadette Hotzi, Gábor Murányi, Annamária Bjelik, Ádám Légrádi, Melinda Szabó, Sára Sándor, Enikő Kubinyi, Cecília Paracky, Zsófia Maglóczky,Tibor Vellai & Tibor Kovács, EDTP and MTMR14 lipid phosphatases promote brain aging by progressively downregulating autophagy throughout adulthood
XVII. Hungarian Molecular Life Sciences 2019, Eger. Kinga Tagscherer, Anna Manzéger, Viktor A. Billes, Tibor Kovács, Tibor Vellai, Two myotubularin phosphatase, EDTP and Mtmr6, differentially regulate autophagy in Drosophila melanogaster
Keytone Symposia, Autophagy: From Model Systems to Therapeutic Opportunities (B2) 2019, Santa Fe, New Mexico, USA. Viktor A. Billes, Anna Manzéger, Kinga Tagscherer, Tibor Kovács, Péter Lőrincz, Henrik Szaker, Tamás Lukácsovich, George Csikos, Miklós Sass, Tibor Vellai, Clarifying the regulatory roles of two Drosophila myotubularin-related lipid phosphatases,
MTMR6 and EDTP, in autophagy
Workshop on Autophagy in model organisms 2018, Budapest. Tibor Kovács, Autophagy-dependent regeneration of male germline in Drosophila
SFB ("Sejt-, Fejlődés- és Őssejt-biológusok évi találkozója"), mini konferencia 2017, Debrecen. Kovács Tibor. Mitochondrial degradation during the regeneration of germline stem cells
XVI. Genetikai Műhelyek Magyarországon 2017, Szeged. Kovács Tibor, Szikszai Fanni, Szinyákovics Janjka, Tagscherer Kinga, Puska Gina, Varga Virginia, Karl Vivien, Manzéger Anna, Billes Viktor, Vellai Tibor. Lizoszómális lebontás szerepe a Drosophila melanogaster hím csíravonalának regenerációjában
Hungarian Molecular Life Sciences 2017, Eger. Tibor Kovács, Fanni Szikszai, Dóra Schuller, Anna Manzéger, Viktor A Billes, Janka Szinyákovics, Gina Puska, Tibor Vellai. Regulation of lysosome-dependent cellular breakdown during the early spermatogenesis of Drosophila
Hungarian Molecular Life Sciences 2017, Eger. Vera Kutnyánszky, Bernadette Hotzi, Balázs Hargitai, Mónika Kosztelnik, Csaba Ortutay, Tibor Kovács, Katalin Lengyel, Eszter Győry, Kincső Bördén, Andrea Princz, Nektarios Tavernarakis, Krisztina Takács-Vellai, and Tibor Vellai. Sex-specific regulation of GA(I/O)-dependent neuronal development and functions in Caenorhabditis elegans
Hungarian Molecular Life Sciences 2015 Viktor A. Billes, Tibor Kovács, Péter Lőrincz, Ágnes Regős, Anna Manzéger, Miklós Erdélyi, József Mihály, Miklós Sass, Tibor Vellai: Developmental autophagy is required for eye patterning in Drosophila
Hungarian Molecular Life Sciences 2015 Tibor Kovács, Fanni Szikszai, Dóra Schuller, Gábor Murányi, Anna Manzéger, Viktor A. Billes, Gina Puska, Zoltán Sándor, Tibor Vellai: Autophagy-dependent regeneration of stem cells in the Drosophila male germline
45. Membrán-Transzport Konferencia 2015 Liliom Hanna, Tárnok Krisztián, Kovács Tibor, Vellai Tibor, Schlett Katalin
Az autofágia aktivációja neuroprotektív hatású az idegsejteket érő oxidatív stressz során
XIII. Genetikai Műhelyek Magyarországon, 2014 Manzéger Anna, Kovács Tibor, Billes Viktor, Vellai Tibkor: Az MTMR6,7,8 Drosophila ortológ CG3530 szerepének vizsgálata stressz- indukálta autofágiában
VIX. Magyar Genetikai kongresszusés XV. Sejt- és Fejlődésbiológiai Napok, 2011 Kovács Tibor, Erdélyi péter, Takács Krisztina, Vellai Tibor: Az autofágia és apoptózis közös traszkripciós szabályozó elemeinek azonosítása Caneorhabditis elegans-ban
VIX. Magyar Genetikai kongresszusés XV. Sejt- és Fejlődésbiológiai Napok, 2011 Regős Ágnes, Takács-Vellai Krisztna, Billes Viktor András, Kovács Tibor, Hoffman Gyula: A C. elegans ceh-13, hox1, lab homeotikus szelektor célgénjeinek meghatározása és vizsgálata
XXV. Conference of european comparative endocrinologists, 2010 Tibor Vellai, Tibor Kovács, Hotzi Bernadette: Hormonal regulation of aging
VIII. Magyar Genetikai kongresszusés XV. Sejt- és Fejlődésbiológiai Napok, 2009 Zsvér-Vadas Zsanett, Kovács Tibor és Máthé Endre: A Vihar fehérje funkcionális doménjeinek elemzése
Memberships:
Hungarian Genetical Society (MAGE) - member
Biologia Futura, MTA – editor
Election committee member of Biology Institute at Eötvös Loránd University
Awards:
2006 – TKD first award in Nyíregyháza
2016 - ÚNKP award in doctoral candidate category
2017 - Best young performer in the first Hungarian Cell- Stem Cell and Cell Development conference
2019 – 2023 Inverstigator in NKFI-1 founding, proposal type: K (132439)
2020 – 2023 Bolyai Reseach Scholarship
2020 - ÚNKP award in Bolyai+ postdoctoral category